The easiest way to install a number of Linux applications and open source software onto macOS Mojave and earlier Sierra OS versions is via a package manager, unfortunately, macOS Mojave doesn't come with one, but fortunately, some good folks care, they come in the form of Homebrew.
The install of Homebrew also works on macOS Mojave, (High)Sierra, El Capitan, and Yosemite, so macOS 10.10 – 10.14
Homebrew isn't the only option, also available is MacPorts and Fink but Homebrew is the newest and most popular of the trio.
Install Homebrew
To download install Homebrew run the install script on the command line as below and let the script do its thing:
/usr/bin/ruby -e "$(curl -fsSL https://raw.githubusercontent.com/Homebrew/install/master/install)"
If you don't have Apples Xcode command line tools installed it will be installed for you.
Then Homebrew is installed.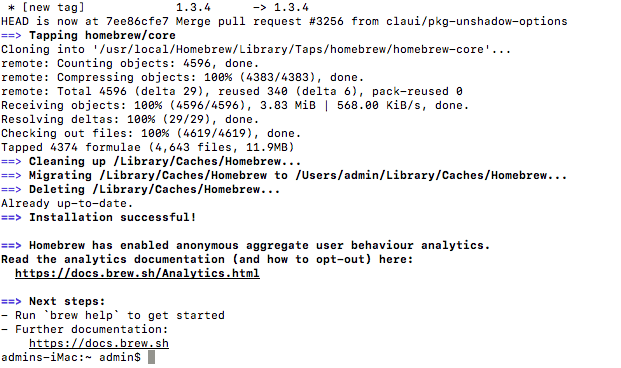 After this Homebrew is installed and ready to install other apps.
To get started run
brew help
To check for any issues with the install run:
brew doctor
One issue that typically comes up is an outdated or missing version of XQuartz.
For the latest Mojave, brew doctor will warn that the Home-brew install won't be 100% if Xcode is not up to date, so that's the Xcode 10.1 beta 2 available for download via Apple Developers site.
To search for an application:
brew search
To install
brew install <application-name>
To list all apps installed by Homebrew
brew list
To remove an installed application
brew remove <application-name>
To update Homebrew
brew update
To see what else you can do
man brew
Where does Homebrew install stuff …. in the Cellar
/usr/local/Cellar/
Where the brew lives.
You can see your Homebrew configuration by running
brew config
The output should be similar to …
admins-MacBook-Pro:~ admin$ brew config
admins-MacBook-Pro:~ admin$ brew config
HOMEBREW_VERSION: 1.7.6
ORIGIN: https://github.com/Homebrew/brew
HEAD: f239b7a62790cfb4f33bda9aab7597d43f1b1e3b
Last commit: 2 weeks ago
Core tap ORIGIN: https://github.com/Homebrew/homebrew-core
Core tap HEAD: 346ca20ecf823752169652849e63b4862158b9c9
Core tap last commit: 3 hours ago
HOMEBREW_PREFIX: /usr/local
HOMEBREW_GIT: git
HOMEBREW_MACOS_VERSION_NUMERIC: 101401
CPU: quad-core 64-bit skylake
Homebrew Ruby: 2.3.7 => /System/Library/Frameworks/Ruby.framework/Versions/2.3/usr/bin/ruby
Clang: 10.0 build 1000
Git: 2.17.1 => /Library/Developer/CommandLineTools/usr/bin/git
Curl: 7.54.0 => /usr/bin/curl
Java: N/A
macOS: 10.14.1-x86_64
CLT: 10.0.0.0.1.1535735448
CLT headers: N/A
Xcode: 9.2 => /Volumes/Macintosh HD/Applications/Xcode.app/Contents/Developer
XQuartz: N/A


All installations via Homebrew are filed independently in the filing system in /usr/local/Cellar and linked into /usr/local/bin which is a directory which allows you to run these commands and apps as if part of the regular operating system.
This directory is also out of the SIP bounds so there should be no authentication macOS error dialog boxes.
HomeBrew is a great package manager just start installing some apps and explore.!