Apple will release their new operating system named OS X 10.11 El Capitan between September-November 2015. The name El Capitan is another landmark name based on famous California landmarks.
At this stage of the game the new OSX will run on pretty much the same machines as both its predecessors OSX 10.10Yosemite and OSX 10.9 Mavericks. You'll still require a 64bit Intel processor, 8GBs of free disk space – if upgrading, as appose to clean install min. of OSX 10.6.7 required plus 2GB of RAM.
The Macs that will run OSX 10.11 El Capitan
iMac – all models from mid 2007, iMac 7,1 – 12,1
MacBook 5,1 – 7,1
MacBook Pro  3,1 – 8,3
MacBookAir 2,1 – 4,2
Mac Mini 3,1 – 5,3
Mac Pro  3,1 – 5,1
Xserve 3,1
Which means most devices made prior to 2008 won't be able to run it.
The ones that fall short…
– OS X 10.11 El Capitan won't run on –
iMac 4,1 – 6,1
MacBook  1,1 – 4,1
MacBook Pro 1,1 – 2,1
MacBookAir 1,1
Mac Mini 1,1 – 2,1
Mac Pro  1,1 – 2,1
Xserve  1,1 – 2,1
How you find your Mac Model Number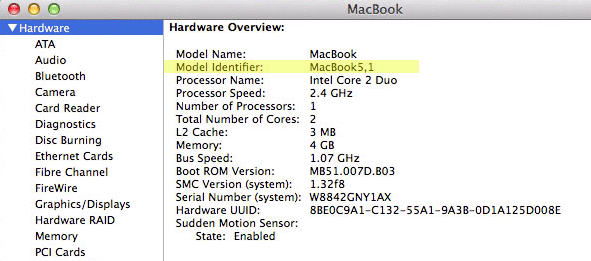 >Apple Menu > About This Mac > More Info … > System Report … Model Identifier
Or for you terminal freaks…
system_profiler SPHardwareDataType